GOLD AND SILVER BUYING & SELLING IN THE GREATER SACRAMENTO AREA
When it comes to buying and selling gold and silver, Fair Oaks Coin & Bullion offers some of the most competitive prices on the market.
Types of Gold and Silver We Buy and Sell
We buy and sell a wide range of gold and silver at top dollar prices, including 1-ounce gold, 5-ounce gold, gold dollars, Kennedy half dollars, silver nickels from the World War II era, and much more. We even deal in foreign coins such as Australian Kookaburra and Canadian Wildlife Silver Coins. We also buy and sell non-monetary pieces, including gold wedding bands, gold chains, and Olympic medals. Not only does each piece carry a certain monetary value, but they also offer historical value. Some Indian Head gold pieces, for instance, were produced by the U.S. Mint as far back as 1908. Browse our full list of gold and silver we buy and sell below.
Buying and Selling Services
Our team members are available to help you through your buying and selling process. Because we understand the importance of making the right investments, we are dedicated to assisting you with building and maintaining your portfolio with some of our valuable coins, as well as a variety of other gold and silver pieces.
Due to their background knowledge and experience, our team members can provide you with accurate appraisals, fair and honest pricing, and direct cash payments in exchange for your coins, bars, bullions, and jewelry pieces.
Stop by and visit Fair Oaks Coin & Bullion today to make purchases or request an appraisal. You can also feel free to give us a call at (916) 965-1789 to learn more.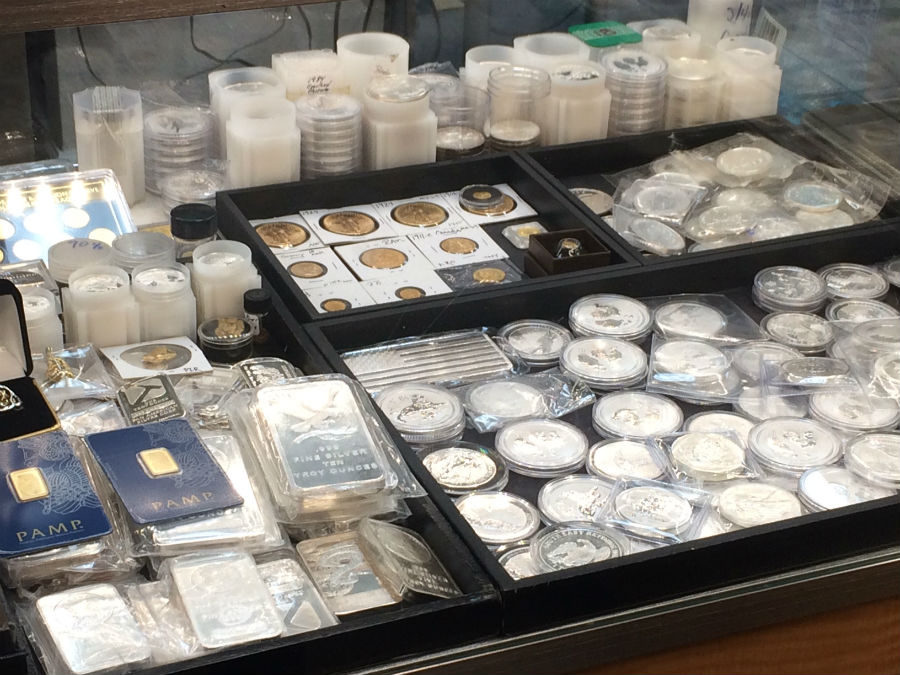 We Buy & Sell Real Gold of All Types & Gold Increments
.999 Pure Gold
Fractional Gold
Troy Ounce Gold
1oz Gold
2oz Gold
5oz Gold
Spanish Gold
Foreign Gold
$1, $2.50, $5, $10 & $20 Gold Pieces
1oz Gold Krugerrand Coins
US 1oz Gold Eagle Coins
Indian Head Gold $2.50 coins
Indian Head Gold $5 coins
Saint-Gaudens (St. Gaudens) Gold
$10 & $20 Pieces
Gold Pandas
Gold Dollars
And more…
We Also Buy and Sell Silver
.999 Fine Silver
Troy Ounce Silver
1 oz, 2 oz, 5 oz,
$1, $5, $20 Silver Coins
Australian Kookaburra
Silver Pandas
Silver Trade Dollars
Silver Rounds
Morgan
Silver Dollars
Morgan CC Dollars
Peace Dollars
Commemorative Silver Dollars
Seated Liberty Half Dollars
Barber Half Dollars
Walking Liberty Half Dollars
Franklin Half Dollars
Kennedy Half Dollars (1964-1970)
Seated Liberty Quarters
Barber Quarters
Standing Liberty Quarters
Washington Quarters (pre-1965)
Silver Half Dimes
Silver Barber Dimes
Silver Mercury Dimes
Silver Roosevelt Dimes
World War II Silver Nickels (1942 – 1945)
Other Types of Gold We Buy & Sell
Gold Olympic Medals
Gold Bars
Gold Ingots
Gold Flatware (Flatware)
Gold Jewelry Scrap/Broken
Gold Rings
Gold Wedding Bands
Gold Earrings
Gold Bracelets
Gold Necklaces
Gold Chains
Gold Ropes
Gold Pendants
Gold Charms
Gold Platters
Dental Gold
And more…
Incremental Gold Pieces
20th (Twentieth) Oz. (Ounce)
10th (Tenth) Oz. (Ounce)
Quarter Oz (.25 Oz. Or 1/4 Oz.)
Half Ounce (Oz) (.5 Oz)
3/4 Ounce (Oz.) (.75 Oz.)
One Ounce (1 Oz.)
And more…
Canadian Gold
Pure Gold Maple Leafs
1oz Gold Maple Leaf
.9999 Fine Gold
1/2 oz. Gold Maple Leaf
Canada 1967 $20 Gold
Canada $100 22k 1/2oz Gold
Canada $200 22k 1/2oz Gold
Canadian $100 14k 1/4oz Gold
Canadian Silver Coins
.9999 Pure Silver Maple Leafs
1oz Silver Maples
1/2 oz. Silver Maple Leaf
Canadian Silver Dollars
Canadian Half Dollars (50 cent piece)
Canadian Quarters (25 cents)
Canadian Dimes (10 cents)
Canadian Five Cent Pieces
Canadian Wildlife Silver Coins
Canadian Silver Coin Sets
And more…
Other Types of Silver
Sterling Silver
Silver Bars
Silver Flatware (flat ware)
Sterling Silverware
Silver Rings
Silver Wedding Bands
Silver Earrings
Silver Bracelets
Silver Necklaces
Silver Chains
Silver Pendants
Silver Charms
Silver Platters
Rare Silver Tea Pots & Sterling Tea Sets
Junk Silver
Scrap Silver
Broken Silver
Raw Silver
Pure Silver
10% – 99.9% Silver
And more…